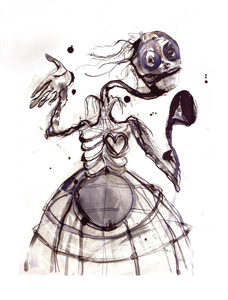 The Lantern Company have grown a reputation over the last 10 years for creating unusual work of an excellent artistic quality. We have a wealth of experience in producing and directing arts festivals, one-off site specific events, carnival parades and visual theatre. We also undertake sculptural commissions and create processional kinetic floats, costumes and large-scale puppets.
Our core artistic team have specialist skills and in-depth knowledge and experience in these fields, and we constantly seek new and inventive ways to animate and illuminate our work, frequently collaborating with artists and organisations from different disciplines, which lends a vitality to all our work.
At the heart of the company lies the desire to nurture and promote artistic excellence alongside a commitment to developing sustainable projects, which build skills and raise aspirations in community members, raising confidence, celebrating creativity and promoting social cohesion amongst participants and audiences alike.
We aim to make our events accessible to those who may not normally access visual or performing arts.
Our Approach
We work with a large pool of exceptional artists and technicians to create beautiful work that will enrich and inspire those who take part or experience it as audience members. 
Depending on the event or commission, we might work with poets or engineers, pyrotechnicians, magicians, musicians and grass roots organisations, costumiers and corporate clients, choreographers and local councils, and have often found that the more unlikely the partnerships, the richer the end result.
The range of our work is broad, with each project or commission having its own set of requirements and priorities that we always aim to respond to, in order to achieve the best results for ourselves and our clients.
Who we work with
Artists / arts organisations / colleges and schools / commercial clients / community organisations / directors / dance companies / events companies / local authorities / musicians / theatre companies / writers
What we do
The work we make ranges from small scale theatrical experiences to spectacular outdoor shows, from community arts workshops to specialist training, from giant puppets and kinetic processional floats to beautiful sculptural lanterns.
We create work for both day and night time events.
We have a large range of costumes, puppets, and street entertainment available for hire and will be happy to discuss the possibilities with you to suit your requirements. We can also provide artistic direction and management for events.
Visit What we do page to see what we offer.
The Team
Artistic Director – Jo Pocock
Project Director- Jackie Swanson
Financial Director – Roger Goddard
Administrator – Pat Maddocks
Associated Artists
Stu Barker / Becky Barnett / Faith Bebbington / Katy-Ann Bellis / Sarah Black / Becky Bryson /Becky Barnet/ Eilidh Bryan / Tony Cairns / Helen Davies / Mandy Dike/Colin Eccleston/ Andy Frizel / Becky Hillam /Graham Hicks/  Rob Hill/ Ewan Hunter / Ian Jones/ Andrew Kim / Alison Kirkpatrick / Anna Ketskemety/ Gavin Lewery / Holly Langley / Mark Loudon / Ashling Leyne/ Carly Mackay / Sophie Meadley/ Austin Mitchel-Hewitt / Kevin Pollard /Amanda Quigley/ Ben Rigby/ Matt Rutter/ Gill Smith / Ruta Staseviciute/ Claire Stringer / Jack Sweeney / Julian Taylor / Jeff Young